Predator
Yautja více známý spíše jako
Predátoři
jsou mocný humanoidní mimozemský druh
lovců pocházející z mateřské planety Yautja Prime, který je charakterizovaný především jako nebezpečný druh vysoce vyvinutým smyslem pro čest, který ze sportu loví jiné vesmírné druh včetně lidí a xenomorphů (vetřelec). Lidský divák se s
Predátorem
poprvé seznámil v roce 1987 ve filmu
Predator
, který následoval sequely
Predator 2
(1990) a Predators (2010). Filmový vesmír Predátorů pak rozšířili dva crosscovery
Alien vs. Predator
(2004) a Aliens vs. Predator: Requiem (2007). Predátorskou mytologii pak hojně rozšířili především počítačové hry a literatura. Predátoři stejně jako lidé dýchají vzduch v atmosféře, která se svým složením podobá lidské a stejně tak obývají planetu, jejíž příroda se částečně podobá té naší. Yautja jsou však přes své barbarské vzezření a způsoby technologicky mnohem vyspělejší než lidská rasa. Životní náplní každého p
redátora je lov při kterém svou oběť stopuje a poté zabije. Z oběti si pak jako trofej bere lebku, kterou dokonale vypreparuje a očistí. Platí, že čím smrtonosnější je forma života oběti, tím větší získává lovec slávu a uznání mezi ostatními svého klanu. Při lovu používá
Predátor
pokročilé technologie jako je aktivní kamufláž, energetické zbraně v kombinaci s klasickými antickými zbraněmi. Díky znalosti pokročilého pohonu jsou schopni mezihvězdných letů a tak Yautja loví po několik milénií v celé galaxii. První lov Predátora je zároveň ceremonií, která odděluje mladé predátory od skutečných lovců. Tvůrcem vzhledu predátora je Stan Winston, který jej s pomocí Jamese Camerona vytvořil do finální podoby, kterou známe z dnešní doby.
Charakteristika Predátora
Predátoři téměř vždy loví výhradně sami s výjimkou iniciačních obřadů mladých
predátorů často označovaných jako Young Blood (i když i v tomto případě se již jedná o predátory, které jsou schopní samostatného lovu). Při lovu pak striktně dodržují Kodex Cti o kterém se však dozvíte více později. Jak již bylo řečeno druh Yautja má humanoidní podobu, hlava je zpravidla v horní části holá a po stranách má výrůstky podobné vlasům ve formě tlustých dredů.
Predátor
v obličejové části nemá žádný nos a čelist má opatřenou čtyřmi krabovité kosti pokryté kůží a zakončené špičáky, které po rozevření odhalí vnitřní ústa oseté špičatými zuby. Postavy Predátorů (
Elder Predator akční figurka
) jsou různorodé, většinou jsou však velice svalnaté či agilnější hubené, přesto však jakýkoliv predátor co do síly hravě překoná jakéhokoliv člověka s olympijskou fyzičkou. Výška a zbarvení kůže je pak závislé na klanu ke kterému predátor přísluší. Těla
Predátorů
jsou velice odolná a bez nesnází odolají velkému poškození a hravě se dokážou vzpamatovat i po několikanásobném střelném zranění po minimálním či dokonce vůbec žádném lékařském ošetření. Přežijí radiaci i na úrovni, která je pro člověka již fatální a jsou rezistentní proti naprosté většině virů a bakterií. Díky své síle jsou schopni v boji holýma rukama porazit většinu protivníků a dokonce prorazit betonovou zeď či holýma rukama vyrvat lebku i s páteří z těla. Tato síla se ovšem nevztahuje jen na horní část těla ale i na dolní takže do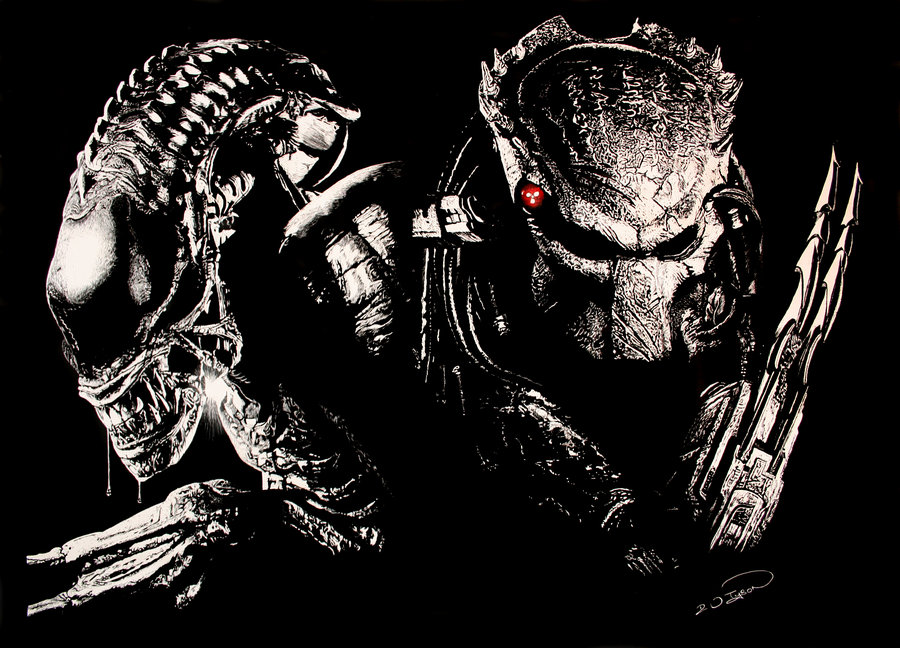 kážou skákat do velkých výšek (např. ve filmu
Predátor
se pohyboval yautja jen skoky ze stromu na strom), dokáže zručně šplhat a nezraní je ani pád z velké výšky. Přestože
Predátor
vyhledává a loví především v tropických oblastech je po určitou dobu schopen přežít i v antarktických podmínkách. Krev predátorů má jasně fosforeskující barvu v zeleném odstínu, která má schopnost neutralizovat kyselinovou krev Xenomorphů. Predátor vidí v několika spektrech, ale primárně v infračerveném elektromagnetickém spektru takže dokážou snadno detekovat změny v jejich okolí, ale hůře pak rozeznají objekty, které mají relativně stejnou teplotu, z toho důvodu nosí Predátoři tzv. Biomask, díky čemuž mohou "sledovat" okolí v různých spektrech a tuto slabinu kompenzovat.
Predátoři
mají svůj vlastní jazyk a to jak v písemné tak mluvené formě skládající se z klikání, řevu a vrčení. Písemná projev má podobu znaků skládajících se z krátkých čárek, které nejsou podobné ničemu, co lze najít v lidské historii. Tyto znaky nebo symboly jsou zpravidla i na jednotlivých částech predátorovy výstroje. Predator je schopen často poměrně věrně napodobit lidskou řeč, kterou odposlechne při sledování oběti a poté na tyto zvuky láká další oběti. Přestože se Predátoři zaměřují na imitaci zvuků lidské řeči, jsou často schopni pochopit význam řeči a omezeně komunikovat s lidmi (takto Yautja komunikoval například s Machiko).
Rasa Predátorů nosí oblečení spíše ve velmi omezené míře a zpravidla se skládá z menších kožených částí, doplněných o kovové části zbroje. Občas mají hruď a stehna pokryti jakousi síťovinou, která slouží částečně i k zavěšení menších trofejí. Pravděpodobně nejznámější součástí zbroje predátora jsou tzv. Biomask (originální
filmová replika Predator Mask
je standardně součástí nabídky internetového obchodu
Living Fantasy). Tyto masky chrání obličej
Yautja
před zraněním, umožňuje mu vidět v mnoha spektrech a především slouží jako manuální zaměřovač pro shoulder cannon. Druhý nejznámější prvek výstroje je wrist blade v řeči Yautja známé jako dah'kte. Jedná se o zápěstní čepele, které jsou standardně schované v pouzdře na předloktí Predatora a v okamžiku potřeby je vysune, čímž se odhalí velice ostrá, zubatá čepel dlouhá od 20 až po 50 cm. Standardní součástí výstroje je samodestrukční trhavina, která je poslední možností predátora jak si zachovat čest, protože žádný predátor nesmí upadnout do zajetí, jinak by se stal tzv. Bad Blood (
figurka Bad Blood Predator
)
Technologie a zbraně Predator
Predátoři
disponují velice pokročilou technologií, která je však tradičně orientována především na lov a mezihvězdné lety aby mohli najít další loviště. Mezi nejvýznačnější technologie patří především adaptabilní kamufláž, která umožňuje Predátorovi (
head-knocker predator
) splynout s okolím a tak se stává prakticky neviditelným. Mezi základní technologie patří i plasmové zbraně, přesto však stále dominují chladné zbraně, jako jsou nože (dah'kte), kopí (ki'cti-pa), meče (al'Nagara) nebo například lovecký disk (chakt-ra). Tyto zbraně totiž predátor považuje za více ctihodné a lov se tak stává více nebezpečným, čímž také získává yautja větší prestiž.
Wrist Blade: nože nebo nůž ukryté v zápěstním pouzdře určené pro blízký boj, ostří čepele je žiletkově ostré a má zubatý profil aby při vniknutí do těla oběti způsobilo co největší zranění
Scimitar: je obdoba wrist blade, ale je mnohem delší
Plasma Caster: tato zbraň je známá i jako shoulder cannon a vystřeluje plasmové výboje. Zbraň je umístěna na otočném rameni, jenž má přichycené na zádech. Plasma citer zaměřuje buďto v plně automatickém režimu nebo pomocí zaměřovače na masce predátora.
Plasma Cannon: další energetická zbraň, která má však podobu menší ruční zbraně
Spear-Gun: projektilová zbraň, která však vystřeluje menší šípy podobně jako kuš.
Combi-Stick: teleskopické kopí, které je možné složit do menší snadno přenosné, kompaktní podoby. Kopí je zakončené velmi ostrým hrotem
Net-Launcher: ruční zařízení, které vystřeluje sítě, jenž se po zasažení nepřítele začnou smršťovat a zaříznou se do těla oběti
Smart-Disc: auto destrukční disk, který slouží zároveň jako vrhací a řezná zbraň.
Shuriken: vrhací zbraň podobná Smart-Disku, ale má podobu hvězdice složené z několika čepelí.
Glive: podobné Combi-Stick, ale má na každém konci velkou čepel
Maul: zbraň podobná policejní tonfě, která má však tělo složené z jako břitva ostrých čepelí
Whip: bič složený z ostrých kovových částí

Predátor kultura a historie
Predátorská kultura se centralizuje okolo stopování a lovu oběti nebezpečných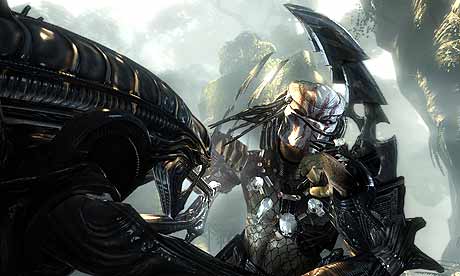 životních forem. Predátor neloví z nutnosti nebo z pocitu ohrožení, ale čistě jen pro zábavu a aby dokázal své postavení ve společnosti. I když
Yautja
zabíjí ze sportu, nikdy nezabije nikoho kdo nemá schopnosti, technologii nebo dovednosti aby se dokázal bránit a poskytne výzvu při lovu. Díky své vyspělosti v mezihvězdných letech podnikají velice dlouhé výpravy, aby našli dostatečně schopné protivníky nebo unášejí vybrané válečníky a odvezou je na planety, které používají jako lovné rezervace. Při cestách vyhledávají především velice teplá prostředí nebo konflikty. Při lovu skupiny si Yautja zpravidla vyhlédne jednu nejvíce schopnou oběť a během sledování postupně likviduje všechny, kteří jsou s obětí spojeni až dojde k finálnímu střetnutí. Poté co Predátor svou oběť zabije, zohaví tělo a vypreparuje z něj lebku, často i s celou páteří, tuto trofej si pak uchová. Zbytek těla pak často stáhne z kůže a zavěsí do výšky na těžko přístupná místa. Trofeje pak
Predátor
umisťuje do své vesmírné lodi na čestné místo nebo je má dokonce zavěšené na sobě pokud to velikost trofeje umožňuje. Přesto, že
Predátoři
postupují při lovu se značnou krutostí a brutalitou vždy striktně dodržují Kodex Cti, který jim zakazuje zabíjet děti nebo neozbrojené dospělé. Většinou také ušetří těhotné ženy nebo ty co jsou stiženi smrtelnou nemocí. Pokud je však napadnou tak je Predátorovou reakcí často rychlá, brutální a smrtící. Člověk, který dokáže v boji zabít Predátora je zpravidla ostatními ušetřen nebo dokonce odměněn vzácnou či exotickou zbraní jako známka respektu (takto byl například odměněn Mike Harrigan v roce 1997 když od Greyback Predatora dostal vzácnou křesadlovou pistoli z roku 1715, kterou Greyback získal v roce 1718 od Raphaela Adoliniho když spolu bok po boku proti vzbouřené posádce pirátů). Ve vzácnějších případech se pak přeživšímu dostane cti lovit s Predátory jako například Machiko.
Fanoušci Predátora jistě ocení velkou nabídku
figurek Predator
, kterou naleznete v naší nabídce!
V současné době není napsáno žádné hodnocení.
Musíte vidět