Assassins Creed
Assassin's Creed
(
Assassins Creed
) je velmi populární série 3D akčních her vydávaných společností Ubisoft již od roku 2007 a od té doby patří k nejuznávanějším značkám herní scény 21. Století. Příběh sleduje osudy Asasínského řádu, který od nepaměti bojuje s mocnostmi usilujícími o naprosté podrobení člověka. Tuto mocnost reprezentuje řád templářů, který se v naprosté tajnosti dochoval až do dnešních dnů jako nadnárodní společnost Abstergo jejíž vliv sahá od vládních špiček států až po nejnovější vojenské technologie a zábavní sféru. Hra se již od prvního dílu pyšnila dokonalým motion-capturingem postav, který způsobil, že veškeré pohyby ať již hlavního hrdiny či nepřátel i ostatních NPC postav byl naprosto dokonalý a je potřeba podotknout, že právě pohybová složka hry udělala kromě výtečného příběhu a zpracování velký kus práce aby si získala takové množství fanoušků jako má dnes. Nedílnou součástí hry jsou i parkourové vložky, kdy se hlavní postava ať již v podání Desmonda Milese,
Altaira
,
Ezia Auditore
,
Connora
či
Edwarda Kenwaye
(v naší nabídce naleznete exkluzivní sběratelské sošky Assassins Creed) prohání po rozlehlých mapách po vlastních nohách a využívá všech rozmanitostí terénu. Kupříkladu Altaïr Ibn-La´Ahad šplhal po domech ve městě Jeruzalém kdežto Ezio Auditore da Firenze pobíhal po střechách renesanční Florencie a Benátek. V plnohodnotném třetím díle série se indiánský chlapec Ratohnhaké:ton později známý jako Connor Kenway již dokázal pohybovat i v korunách stromů a šplhat po skalách. Poslední invencí bylo v díle Assassins Creed IV Black Flag kdy se obratný pirátský hrdina Edward Kenway již dokázal proplétal v lanoví dobových pirátských lodí. Internetový obchod Living Fantasy přináší velké množství fanouškovských
předmětů Assassin´s Creed
Historické události v Assasins Creed
Herní série Assassins Creed se stala velmi populární i tím, že si v jednotlivých dílech vybírá různá, historicky zajímavá období (do kterých autoři umně zasazují svůj fantastický příběh o pravém stvoření lidstva a našich předcích) a hlavní postavy se setkávají se známými postavami lidské historie a to jak na straně dobra tak i zla. Hráč tak v prvním díle
Assassin's Creed
pozná Jeruzalém v době třetí křížové výpravy navštíví lokace jako je Šalamounův chrám a potká postavy jako je Robert ze Sablé, Richarda Lví Srdce či Garnier de Nablus. Na stránkách Living Fantasy naleznete originální
repliky Assassins Creed
vztahující se k jednotlivým dílům jako je Assassins Creed III odehrávající se během americké války o nezávislost a hráč potká takové postavy jako je George Washington, Robert Faulkner, Charles Lee či John Pitcairn. V celé sérii, která je našlapaná historickými událostmi (samozřejmě jsou události vyprávěné tak aby vyhovovali potřebám tvůrců) se tedy setkáváme s velkým množstvím postav jako je Leonardo da Vinci, Niccolò Machiavelli, Dante Alighieri, Lorenzo Medičejský, Kateřina Sforza, Rodrigo Borgia, Mikuláš Koperník, Mary Read, Edward Thatch , Stede Bonett, Benjamin Hornigold, Napoleon Bonapart či Francouzský král Ludvík XVI. Takže se nejen pobavíte, ale zároveň i ponaučíte!
Počátek herní série a Altair
Celá herní série
Assassins Creed
začíná v roce 2077 vydáním prvního dílu firmou Ubisoft Entertaiment. Ústřední příběh hry se odehrává v dvanáctém století našeho letopočtu i když si občas odskočíte do současnosti, kde se odehrává druhá část příběhu o Desmondovi Milesovi. Desmond Miles je barman, unesený společností Abstergo Industries jako testovací subjekt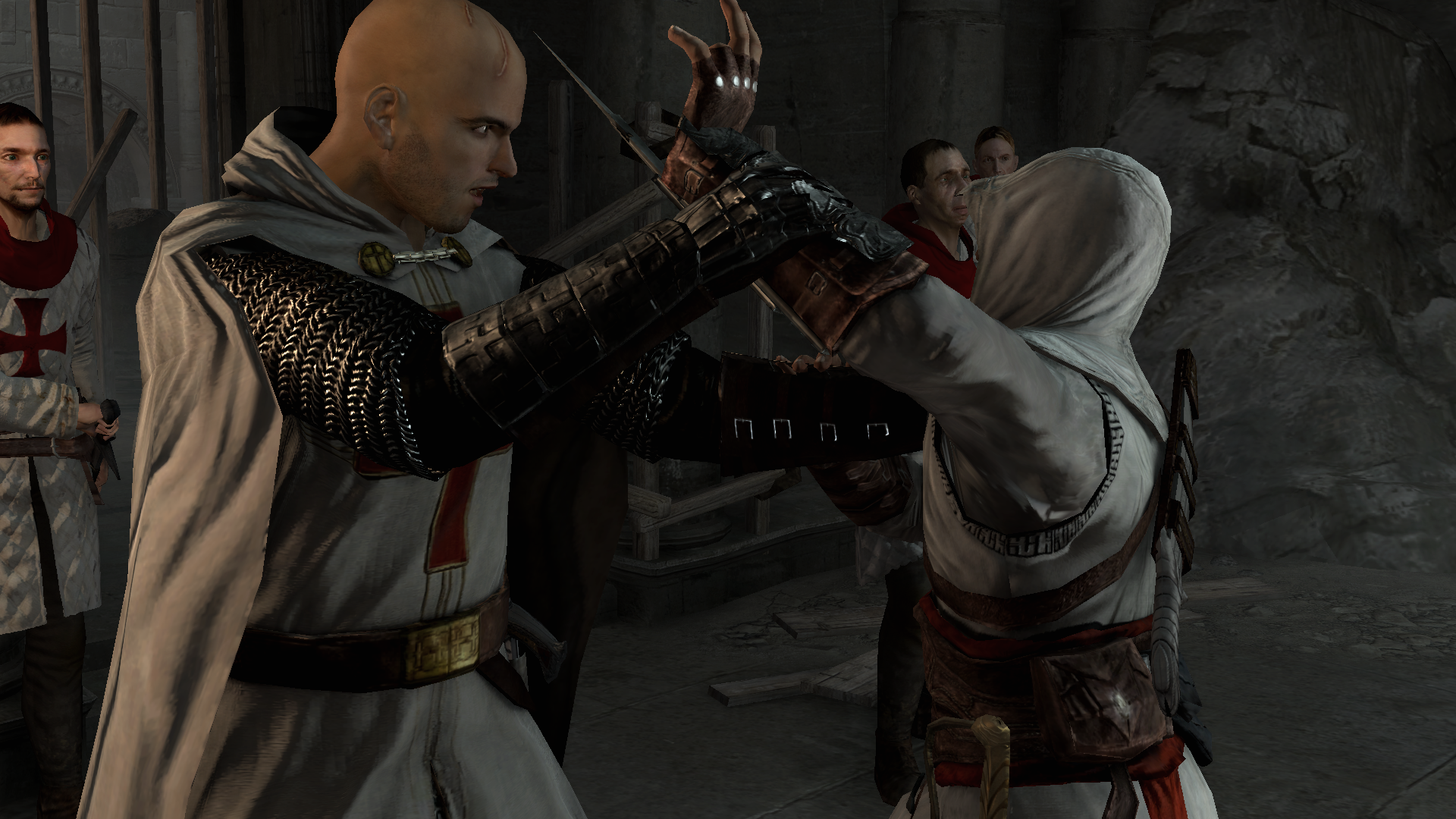 pro Animus, což je přístroj, který dokáže simulovat genetické vzpomínky člověka čímž je možné zkoumat osudy předků testovaného subjektu. Abstergo uneslo Desmonda, aby se dostalo ke vzpomínkám jeho předka, Levantinského zabijáka Altaïra Ibn-la´ Aháda, který žil v období Třetí křížové výpravy. Hra začíná, když se Desmond snaží napojit na Altairovi vzpomínky, ale okamžitě jej potkají synchronizační problémy, během kterých poprvé hráč zaslechne hlasy Lucy Stillman a Warrena Vidice, kteří se dohadují nad Desmondovou bezpečností při jeho setrvání v Animusu. Poté co je Desmond z Animu uvolněn mu Warren vysvětluje důvod únosu, Abstergo totiž pátrá po tajném artefaktu, který ukryl právě Altair a od té doby o něm nikdo neví. Bohužel však není možné okamžitě se dostat k potřebné vzpomínce a proto je Desmond nucen prožívat celé dobrodružství Altaira než se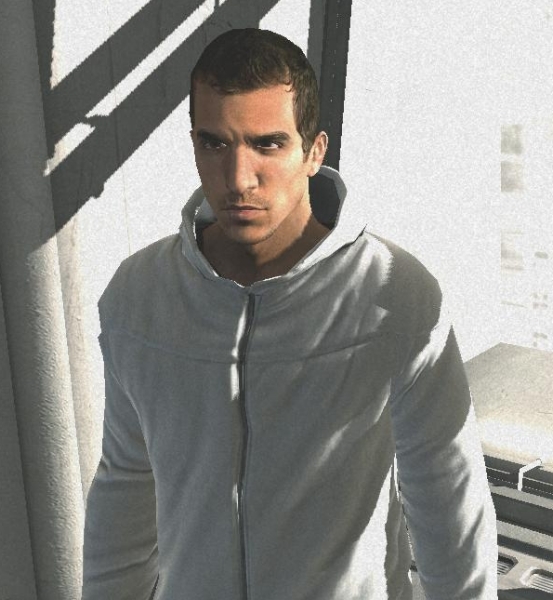 dostane k finální vzpomínce. V prvním aktu se Altair poprvé setká s artefaktem zvaný Kousek Ráje (Piece of Eden) v Šalamounově chrámu kde se má s pomocí Malika Al-Sayfa a jeho bratra Kadara zmocní artefaktu, ale jsou zastaveni Robertem de Sable, Velmistrem Templářů, kteří jsou zároveň úhlavními nepřáteli Asasínů. V okamžiku kdy mají tři asasíni vyzvednout poklad spatří Roberta a Altair se rozhodne porušit všechna základní pravidla Asasínského řáduji pokusu o Robertovo zabití, ale zklame a jako následek je zabit Malikův bratr, sám Malik přijde je těžce raněn a Altair sotva vyvázne. Když se Altair vrátí do Asassínské pevnosti v Masyafu aby oznámil svůj neúspěch je přerušen Malikem, který nakonec zachránil artefakt a obviní Altaira z arogance a zrady řádu. Krátce nato je pevnost napadena Templáři a zemře velké množství nevinných lidí. I když jsou Templáři nakonec díky lsti zahnáni na útěk je Al Mualin, vůdce Assasínů rozzuřen Altairovou arogancí a nedbalostí, že jej okamžitě degraduje na novice a odejme mu všechny zbraně včetně skryté čepele, ale dá mu možnost se rehabilitovat, když dokáže svou prospěšnost bratrstvu. Al Mualim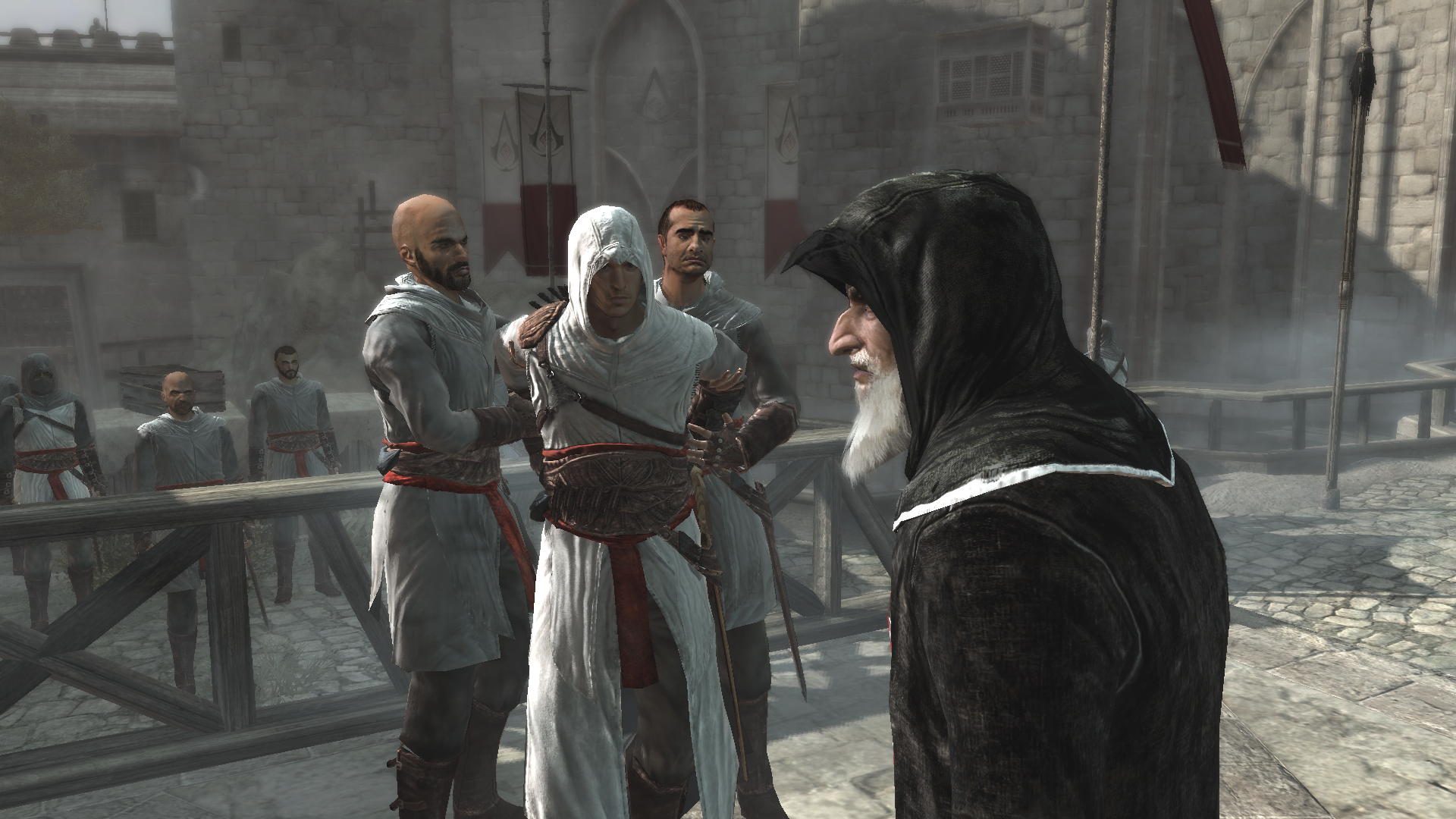 přikáže Altairovi zlikvidovat několik klíčových postav Templářského řádu. Tyto tajemné osoby se nacházejí na území svaté země Jeruzaléma, Akry a Damašku. Jména těchto Templářů jsou Majd Addin, Garnier de Naplouse, Jubair al Hakim, Abu'l Nuqoud, Sibrand, William z Montferratu a Robert de Sable.
Altair splní vše co se po něm žádá a zjistí jak jsou jednotlivé postavy propojené s Robertem de Sable a Templáři a, že je jejich cílem ukončit Křížové výpravy a získat svatou zemi pro pod svou kontrolu. Když jsou všichni kromě Roberta mrtví, uvědomuje si Altair o co Robertovi jde, spojit Křižáky a muslimy proti jejich nepříteli Asasínskému řádu. Altair porazí Roberta přímo před zraky Richarda Lví Srdce, kterého se však nepodaří přesvědčit, že si obě strany přejí ukončit válku, alespoň prozatím ukončí Robertův komplot. Bohužel však zjistí, že Al Mualim je tajným členem Templářů a Altair mu svým počínáním pomohl zabít všechny co věděli o tajemství a moci artefaktu Piece of Eden. Poté co se Altair rychle vrátil do Masyafu utkat se svým mentorem Al Mualimem mu vyjeví pravdu o Kousku ráje. Kousek ráje je totiž velmi mocný artefakt, který ovládá iluze a v minulosti dokázal ošálit celé národy, jenž ovlivnili náboženství po celém světě. Dokázal totiž přimět lidi uvěřit v deset morových ran Egyptských, rozdělil Rudé moře a přesvědčil válečníky v Trojské válce o přítomnosti Řeckých bohů na bojišti. Al Mualim se s pomocí Piece of Eden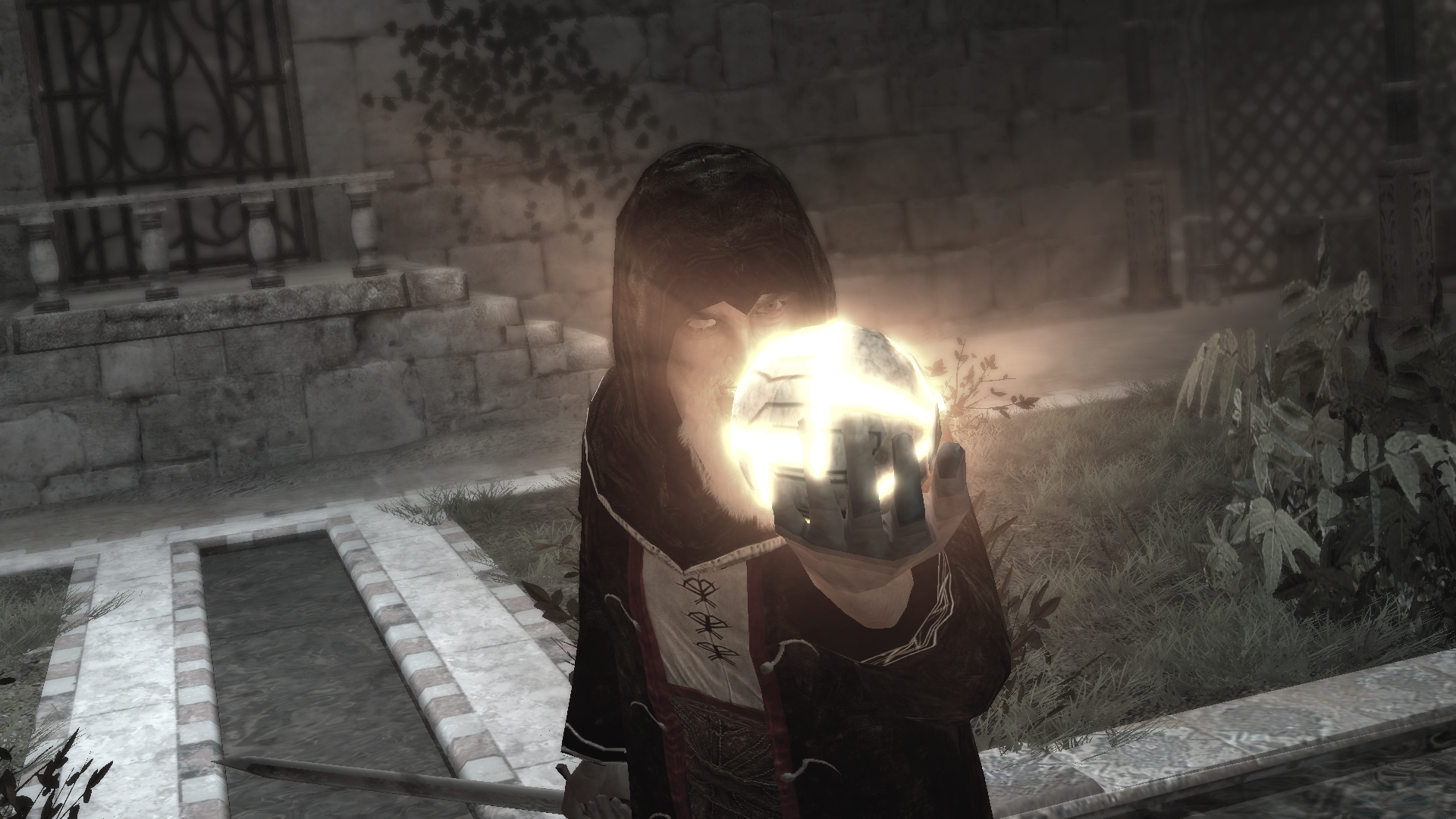 chystá vytvořit z lidstva tupé nemyslící stvoření, poslušné všech jeho příkazů (všem fanouškům Assassins Creed přinášíme originální předměty
Assassin's Creed
), které by ukončili války po celém světě, ale učinil by z lidí otroky. Poté co Altaïr Ibn-La´Ahad porazí svého učitele Al Mualima zjeví mu Piece of Eden holograf na kterém se ukáže několik míst po celém světě na kterém se nacházejí další úlomky ráje…
Po této události se Desmond probere z Animu a uvědomí si, že Abstergo je vlastně Templářská společnost, která přežila a v současnosti ovládá telekomunikační technologie a po získání údajů o lokacích Piece of Eden již pátrají po těchto mocných artefaktech. Také se dozví, že přežívající Asasinský řád učinil pokus o Desmondovu záchranu, ale neuspěl a vysoce postavený Templář Alan Rikkin je odsoudil k smrti. Na poslední chvíli je však zachráněn Lucy Stilmannovou, která mu ukáže svůj chybějící prsteníček dokazující její příslušnost k asasínskému řádu.
Přitom co b
yl desmond uvězněn v Animu se u něj začal projevovat tzv. Bleeding efekt, který způsobil, že Desmond získal Altairovi schopnosti včetně Orlího pohledu, díky němuž najde tajemný nápis ve své cele odkazující na datum 21. Července 2012, kdy plánuje Abstergo vypustit na oběžnou dráhu satelit, jenž ukončí všechny války.
Assasin´s Creed
V současné době není napsáno žádné hodnocení.
Musíte vidět