Komiksová postava Batman
Batman je spolu se Supermanem a Spider-Manem pravděpodobně nejznámější komiksovou postavou všech dob. Temný rytíř z města Gotham co ochraňuje bezbranné a zasévá strach do srdcí všech zločinců a padouchů. V tomto článku si povíme o Batmanově vzniku a jeho charakteru.
Samotná postava Batmana vznikla již v roce 1939 z autorské spolupráce kreslíře Boba Kanea a pisatele Billa Fingera, uvedena pak byla v Detective Comics #27 (Květen, 1939).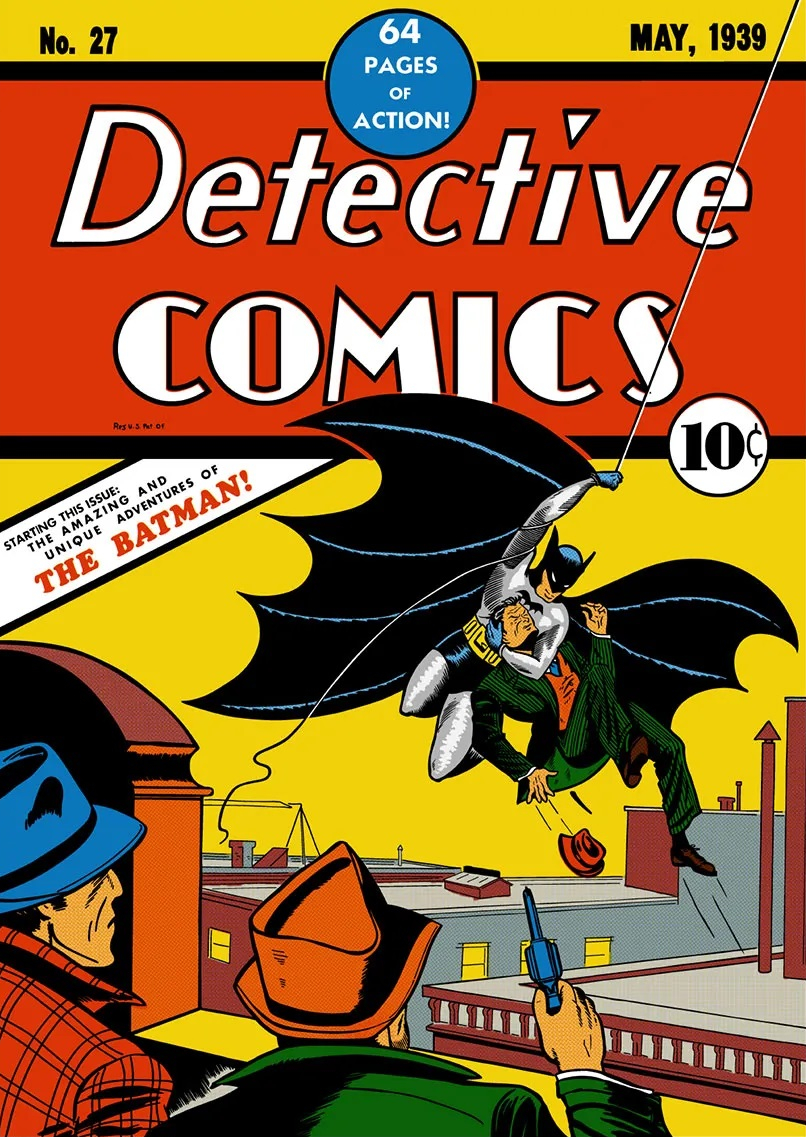 Batman je ve skutečnosti skryté alter-ego miliardáře Bruce Waynea, který byl svědkem brutální vraždy svých rodičů Marthy a Thomase Wayneových, prominentních členů Gothamské smetánky. Tato událost navždy změnila Bruceův svět a proto se rozhodl mladý Bruce podstoupit intenzivní trénink tak aby dosáhl fyzické a psychické dokonalosti. Samotný trénink však nestačil a proto Bruce stvořil obrněný kostým s motivem Netopýra, aby vnesl do srdce nepřítele primitivní, panický strach. Batman operuje ve městě Gotham a často mu pomáhají jeho pomocníci Robin a sluha Alfred Pennyworth. Na rozdíl od většiny superhrdinů Batman (nabízíme nádherné sochy Batman) nedisponuje žádnou supersilou ani mutací, avšak tento nedostatek nahrazuje geniálním intelektem, detektivními schopnostmi, vědou, technologií, bohatstvím a nezlomnou silou vůle.
Batman se záhy po svém uvedení stal nesmírně populární a brzy si vysloužil svou vlastní komiksovou řadu Batman, která po různých úpravách vychází až dodnes. Batmanovu postavu dostalo na starost několik scénáristů, kteří jí postupně vtiskli mnohem temnější nádech což vedlo k tom, že v roce 1986 dostal Batmana na starost kultovní scénárista a kreslíř Frank Miller. Frank Milller svou mini-sérií Batman: the Dark Knight Returns vytvořil doslova kultovní ikonu komiksu.
Batmanova historie v komiksu
Na rozdíl od jiných komiksových hrdinů je Batmanova minulost velmi složitá díky multi-vesmíru (DC Comics stvořilo Multi-vesmír aby mohlo různě upravovat životní příběhy superhrdinů) a proto je velmi těžké určit pro neznalé, jak vlastně Batman vznikl jak došlo k přeměně Bruce Waynea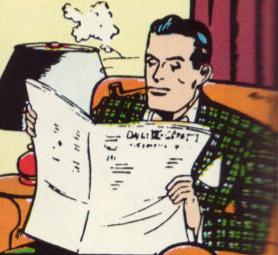 na Batmana. Obecně je však uznávaná verze z Golden Age éry ve které je Bruce Wayne svědkem vraždy svých rodičů lupičem poté co se celá rodina vrací z představení. Osiřelý Bruce Wayne se pak rozhodně navždy změnit Gotham a vyčistit jej od veškerého zla. Podstpoupí tedy velmi intenzivní výcvik ovšem brzy si uvědomí, že jen výcvik nestačí. Musí stvořit symbol, kterého se budou zločinci bát a jejich tělo ochromí hrůzou na což samotný zákon zdaleka nestačí. Během této myšlenky náhodou zahlédne Bruce v okně netopýra což ho inspiruje ke stvoření Batmana. Během Golden Age éry si Batman brzy vysloužil přízeň Gothamské policie a stal se dokonce jejím čestným členem. Dokonce se svou snoubenkou Julie Madison adoptoval Dicka Graysona, osiřelého cirkusového akrobata, který se později stal jeho pomocníkem Robinem. Batman se také stává zakládajícím členem Justice Society of America, přestože se stejně jako její čestný člen Superman neúčastní mnoha akcí. Během této doby doplní Dynamic Duo (Batman a Robin) také Alfred.
Silver Age éra
Poté co v šedesátých letech minulého století DC Comics uvádí multi-verse (multivesmír), je zpětně ustanoveno, že Earth-Two je domovem všech postav uvedených v éře Golden Age. Což umožnilo DC Comics vyřešit problém s integritou nových Batmanovských příběhů do staré příběhové linie. Jedná se tedy o jakýsi paralelní vesmíry, jenž uvádějí nové životní příběhy slavných hrdinů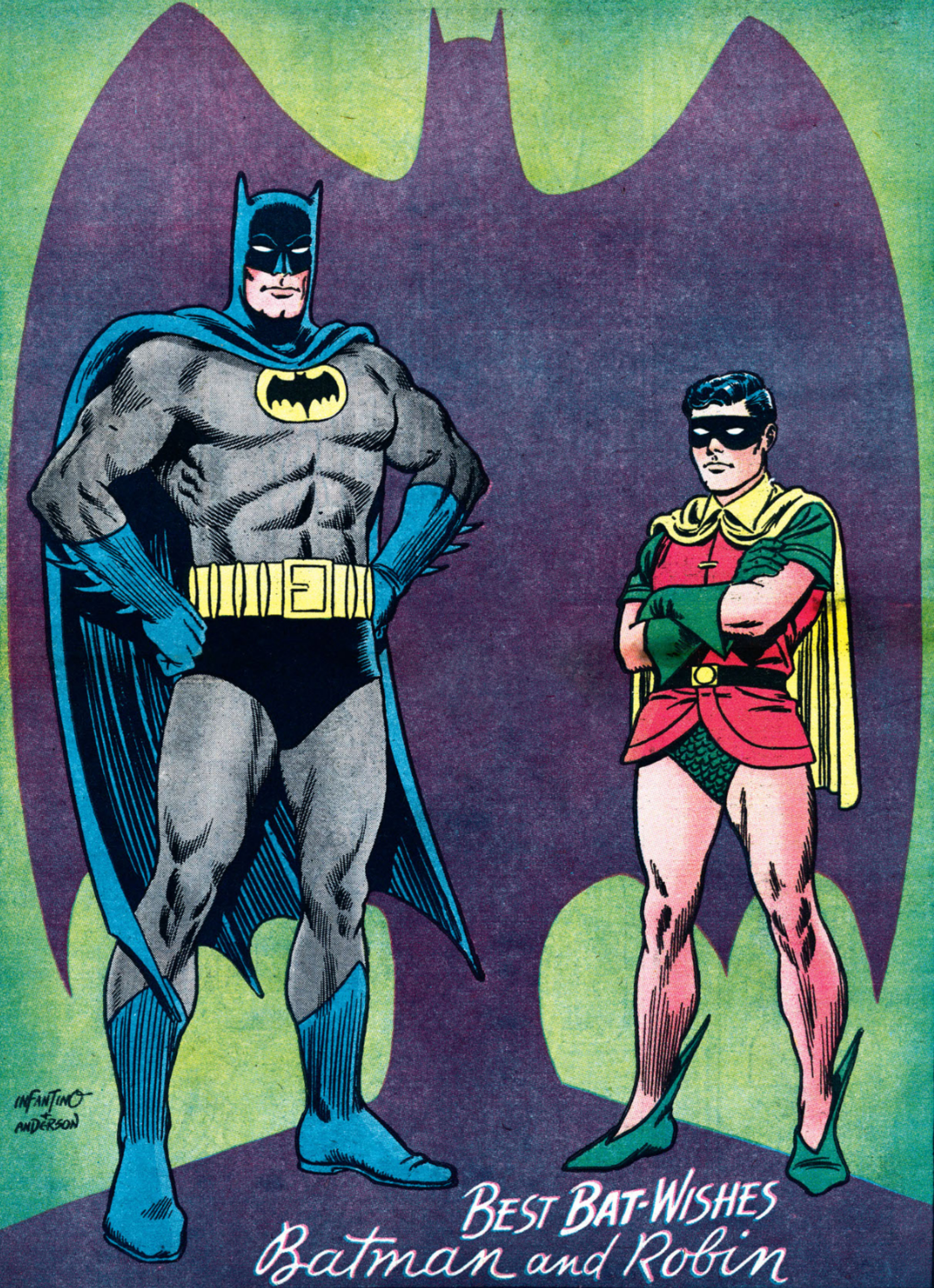 a padouchů. Earth-Two Batman je tedy postava z paralelního světa, který si vzal napravenou zlodějku Earth-Two Catwoman a spolu zplodili Helenu Wayne, která se jako Huntress (Společně s Earth-Two Robinem) stane ochráncem Gothamu poté co se Bruce Wayne rozhodne odejít na odpočinek a stává se policejním komisařem města Gotham. V této pozici Bruce zůstává až do své smrti během svého posledního Batmanovského dobrodružství. Během této Silver Age Batman často spolupracuje s ostatními hrdiny, nejčastěji však se Supermanem, který je často popisován jako Batmanův blízký přítel. Batman se také stává zakladatelem Justice League of America jejichž první příběh vychází v šedesátých letech sešitem Brave and The Bold #28. V roce 1969 dočasně opouští Bruce Waynea Dick Grayson, který se rozhodne studovat vysokou školu a samotný Bruce opouští Wayne Manor a stěhuje se do penthausu v budově Wyane Foundation umístěné v centru Gothamu tak aby byl blíže Gothamskému zločinu. Batman stráví většinu období mezi 1970-1980 osamoceným bojem s občasnou pomocí Robina či Batgirl. Během tohoto období se Batmanovy příběhy stávají temnější, ponuřejší a popisující mnohem více brutálnější zločiny včetně Jokerovy opětovné účasti a příjezdu Ra's Al Ghula. V roce 1980 Batmana nadobro opouští Dick Grayson a stává se z něj samostatný Superhrdina Nightwing.


V současné době není napsáno žádné hodnocení.
Musíte vidět